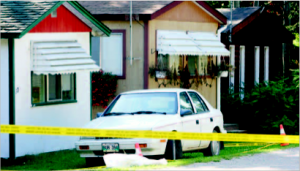 WEDNESDAY, SEPTEMBER 17, 2014 • THE BRANDON SUN NEWS • A5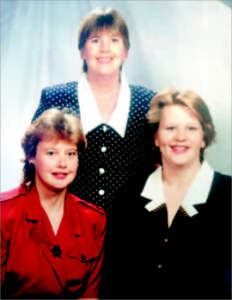 'I do not want my sister forgotten'
5 years after Sherri Leigh Green's death, family reveals details, offers reward to help nab killer
BY IAN HITCHEN
Before driving to the family cabin for one of her getaways from the city, Sherri Leigh Green stopped for fuel and cigarettes at the Brandon gas station where her sister worked.
She parked in front of the shop's doors and Glenda Gerry could see that Sherri's car was packed for the trip.
Sherri walked in, said hi and then — as they sometimes would — the sisters argued. Sherri was taking her beloved cat Mindy to the cabin, but Glenda felt the cat didn't belong there.
"If I had of known then that was the last time I was going to talk to my sister, it would never have ended the way that it did," Glenda recalled in a recent interview. "That's something that I will never, ever forget. Our last discussion was an argument."
Six days after she stopped at the gas station, Sherri's body was found inside the cabin at Wasagaming.
That was five years ago today. Her killer hasn't been caught and her family says they have no idea who killed her.
Now, frustrated by the lack of word of any suspects or progress from RCMP investigators, they've stepped forward to share what they know about the killing in the hope someone will come forward with information.
They're offering a $1,000 reward for any information that leads to the conviction of the killer. They say they don't want Sherri's case to turn "cold."
"I do not want my sister forgotten. There is somebody out there that knows something," Glenda said. "We want answers. It has been a very rough five years on the family."
RCMP confirmed on Tuesday that the investigation continues, but didn't have word of any suspects or arrests, or release or confirm details due to the ongoing investigation.
"The file is still under investigation, that's pretty much the details we have at this point," said Manitoba RCMP spokesman Const. David Portelance. "It is still an investigation. It's not a closed box, it's still wide open, and they're still working on it, that's for sure."
For the first time, Sherri's family is sharing some of the details about how her body was found at the cabin on Thursday, Sept. 17, 2009.
It was Sherri's second sister and her brother-in-law, Lisa and Dave Taylor, who found her.
Thelastcontactthefamily had with 39-year-old Sherri before she was found seems to have been a text message received by the Taylors' daughter, Vanessa.
The Taylors believe that the message from Sherri, which was about her cat going missing for ashorttime,wassentfromthe cabin.
Sherri—aformernurse'saide whoworkedinhomecare,and a former truck driver — was between jobs at the time, but had plans to return to nursing.
She wasn't married and had nochildrenandwouldgoalone tothecabin,whichhadbeenin the family for at least 44 years, for getaways from Brandon whereshelivedbyherselfina townhouse.
The last text message was received sometime Sunday or Monday,priortothediscovery of her body on Thursday.
By that Thursday, Vanessa hadn't heard from her aunt in days. Worried, she asked her parents if they'd heard anything and was told no.
With no working landline phone at the cabin, and after repeated failed attempts to reach Sherri on her cellphone, Lisa decideditwastimetodriveto the cabin to see if her sister was OK.
SheandDaveleftBrandon shortlyafter6p.m.andarrived at the cabin about 7:30 p.m.
The small two-room cabin was in the Old Campground at Wasagaming, where cabins
LEFT: Sherri Leigh Green (far left) is pictured with her sisters Glenda Gerry (middle) and Lisa Taylor. (Submitted) ABOVE: Police tape stretches across a section of the Old Campground at Wasagaming after Sherri's body was found in her family's cabin five years ago today. (File)
stand in long rows within 10 feet of each other.
But there would have been relatively few people staying at the site during the week that late in cottage season, after children had returned to school from summer break.
As the Taylors neared the cabin, Sherri's favourite song, "Coal Miner's Daughter," was playing on the car radio. The song ended just as the Taylors pulled up to the front of the cabin.
Sherri's car was parked in front. It was still light out and, unusually for that time of day, the patio lights were on.
As the Taylors approached the door, Sherri's cat could be heard meowing inside. The cabin door was locked and, figuring Sherri was away at the Wasagaming townsite, the Taylors let themselves in with their key.
It was dark inside but they could see Sherri's silhouette againstawindowwherelight filtered in through the drawn curtain. She was sitting in a chair in the kitchen.
Lisa called out to Sherri but she didn't respond, and Dave turned on the light to find a horrifying scene.
Sherri was seated in the chair, leaning slightly to one side with her hand almost touching the floor. There was a gaping wound to the left side of her neck near the back.
That wound and the amount of blood on the floor made it clear that she was dead.
Dave told Lisa they had to "getthehellout."Theyleftthe cabinandclosedthedoorsofast that they forgot to grab the cat.
Outside, Lisa screamed, "That's my sister! That's my sister!" Dave tried to comfort her as he called 911 on his cellphone.
Neighbours emerged from theircabinwhentheyheard Lisa scream. The couple took thedistraughtTaylorsintotheir cabinandgavethemcoffeeas they awaited police.
One of the family's frustrations remains how long it took RCMP to respond. The Taylorssayitwasabouttwo hoursbeforethefirsttwoofficers arrived on scene.
They question why it took officerssolongtorespondwhen there's a detachment in Wasagaming.
Dave says that, as the couple waited for RCMP to arrive, police or dispatch called him back two or three times to seek more information as they tried to work out what type of resources to send.
After officers arrived, Dave was able to get Sherri's cat, which the Taylors placed in their car.
In the minutes following the discoveryofthebody,Davehad also called Sherri's father, Glen, in Brandon. Glen had high bloodpressure,andtheshockat newsofhisdaughter'sdeath sent him briefly to hospital where he received medication.
He and Glenda then travelled toWasagamingand,afterastop
at the scene, joined the Taylors at the RCMP detachment in the early morning.
Glenda says it was at the detachment that an officer told the family Sherri's case was a homicide.
In the days and weeks that followed, police interviewed all of Sherri's immediate family, including Dave and Lisa multiple times, Glen and Glenda.
Extended family members were also interviewed, as well as neighbours from the cabin area and contacts on Sherri's cellphone.
The family also handed over six months of records for Sherri's cellphone and let investigators into her apartment when asked.
But the relationship between the family and RCMP began to sour early, even before Sherri's funeral on Oct. 1, 2009.
Glen says in the days leading up to the funeral, he consented toapolygraph(liedetector)test. But, he said, when he went for the test at the Brandon detachment, he was interrogated for four hours instead.
Upset by the interrogation and afraid that investigators seemed to be pointing at him, Glen says he declined to do a polygraph because he'd told police all he had to offer.
Lisa says that during one of her interviews by police a few weeks after Sherri's death, investigators stated that they believed the killer had been close to Sherri.
Dave says that shortly after thefuneral,policetoldhimhe wasasuspectandaskedhimfor a polygraph. Lisa says she was also told she was a suspect, and she and other family members were asked to take the test, too.
The Taylors say that, after consulting a high-profile Winnipeg lawyer — who advisedthemnottotakethelie detector tests as police were "grasping at straws" — they declined.Lisawasn'tsureshe could trust police.
In the end, no family member took a lie detector test and the Taylors say that, based on advice fromtheirlawyer,theystarted tolimittheirco-operationwith police.
Then, the Taylors say official communication between RCMP and the family all but ceased. Lisa said that for the last few years, she received an annualcallfrompoliceinwhich they tried to encourage her to take a polygraph.
Some information was shared with the family by one local RCMP officer, but even that flow of information petered out whentheofficerretired.
However, there are tidbits the family gleaned from RCMP before the communication breakdown.
First, Sherri's family says police told them they'd eliminatedSherri'sboyfriendof thetime,MarkWilliton,from being a suspect.
Williton, a trucker from Alvinston, Ont., met Sherri about two years prior to her
death and would visit her during cross-country trips.
The day of Sherri's funeral, he contacted the Brandon Sun to say he wasn't responsible for her death.
Williton said he and Sherri were in Brandon on Thursday, Sept. 10, 2009, where they picked out a promise ring. They then spent the weekend together at the cabin alone, arriving on Sept. 11 and leaving on Sunday, Sept. 13.
He said Sherri dropped him off at the Brandon truck stop where he'd left his truck. He then went on a trucking run into the western United States.
Williton said he last spoke to Sherri by phone on the Sunday he left, and she was at the cabin then.
Lisa says the last time she spoke to Sherri was by phone on that Saturday. Sherri told her she was having lunch with Williton, but didn't mention where.
Williton said he was interviewed by police in Winnipeg after learning of Sherri's death.
The family says there was also a report that a neighbour had spotted Sherri taking out garbage at her apartment on the Monday morningpriortothediscovery of her body.
They say RCMP indicated that Sherri may have received a call or text message that asked her to return to Wasagaming to meet someone.
Then, there was a report that Sherri had been spotted at the Wigwam Restaurant in Wasagaming with a "scruffy guy" on Tuesday.
The family also believes that investigators may be looking for a man based on a footprint found at the scene.
Beyond that, the family is left with rumour and speculation.
They've never heard, for example, whether any weapon that may have been used in the killing has ever been found. Speculation has ranged from a hatchet to hammer, an icepick to a knife.
Cause and time of death also remain a mystery to them. A woman with the Office of the Medical Examiner called the Taylors prior to the funeral, but didn't go into details due to the ongoing investigation.
"She said that Sherri did not suffer. It was quick," Lisa says.
Lisa recalls Sherri appeared to be wearing jeans when she was found, suggesting to her that she'd been killed in the evening.
In mid-October 2009, after police were done with the cabin, Dave returned to oversee its cleaning and noticed details he hadn't seen before.
Among the most disturbing was the blood spatter on the walls and ceiling.
But aside from the blood, the cabin looked like it did when Sherri was there for the evening. The cabin was clean and the dishes were done.
The coffee maker had water and coffee in it — Sherri would prepare the maker in the evening,soitwasreadytogothe next morning.
There was no sign that anyone had forced their way in. Dave and Lisa say Sherri would lock the cabin door when she was there, and she didn't like the thought of strangers in the cabin.
Despite all the unanswered questions, there is one thing the family does know — investigators haven't told them that any family member has been ruled out as a suspect.
Lisa says that at one point an investigator told her it would help if police could clear the family.
The family says they're willing to help push the case forward.
About a year ago, Lisa said she was contacted by RCMP, who again asked her to do a polygraph, and both she and Dave consented.
Tests were set for mid- December but cancelled by RCMP when the tester fell ill. The Taylors say RCMP didn't get back to them with new dates.
Lisa says that last week, after the Brandon Sun started to look into the family's concerns, RCMP called her and rescheduled the polygraphs for her and her husband. Dates are now set for mid-November.
Glenda and Glen agree that the family should now do polygraphs, if that's what it takes to push the case along.
Meanwhile, Sherri's sisters have lost their last living connection to her.
Mindy the cat was adopted by Dave and Lisa following Sherri's death. On Aug. 24, the day after what would have been Sherri's 44th birthday, Mindy died from kidney disease.
Any happy memories at the cabin from years past were wiped out by Sherri's killing, the family says. Shortly after her death,they removed the cabin from its site and burned it.
As for the family's concerns about lack of information, Portelance said the force is in contact with the family, and they can raise concerns with the lead investigator who's with the Winnipeg major crimes unit.
"If they have any questions they can call him, and he'll do his best to answer them," Portelance said.
The Sun's attempts to reach the lead investigator on Tuesday failed.
This article has been published here with the permission of The Brandon Sun.
Please click on the link below to access this file.
Five parks staff installed this new, and frankly quite awesome, accessible kayak dock in the canoe graveyard within the campground a few weeks ago.
It has been enjoyed by several kayakers and allows people who have some mobility
challenges to easily launch and land a kayak using the rollers and
hand rails. Installing this piece of accessible infrastructure was
Michael Rac's suggestion.
The contractor for the paving in our campground is Maple Leaf Construction from Winnipeg. They have been doing other pavement in the area and have just recently paved Meadowview Drive and other areas of Southbay Subdivision west of Sportsman's Park.
>
>They started working in our campground on September 2nd on 2nd Street South. They have completed the first block of 2nd Street South, along with the
> majority of the first block of 1st Street South. They have excavated the
> second block of 1st Street South, and have staked the southerly two blocks
> of both 2nd Street South and 3rd Street South.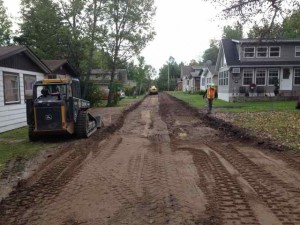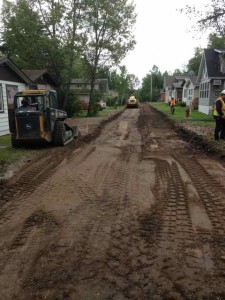 >
>In terms of equipment they are using a tracked excavator, a tracked skid
> steer, two packers and a number of tandem trucks to remove the existing
> material and replace it with road base material.
>
The Annual General Meeting will be held Sunday, August 31, 2014.
WHERE: Park Theatre, Wasagaming, MB
Registration at 9:00 a.m.
Meeting at 10:00 a.m.
In preparation for the street paving that is going to start in the Clear Lake
Campground, please note that effective Tuesday, September 2, you will need
to start parking in the big parking lot for the month of September and
October as the paving company will be working on numerous streets at the
same time and will take approximately 6 weeks to complete the project.
There is no specific schedule as to what streets are being done in what
order, therefore we are asking that once the excavation starts, limited
vehicle traffic will be allowed in the Clear Lake Campground area until the
project is complete.
If you require further information, please contact the Project Manager,
Dwight McMillan, 204-848-7214 or dwight.mcmillan@pc.gc.ca.
CLCA BOARD MEETING
ELKHORN RESORT
AUGUST 16TH, 2014
PRESENT: Brian McVicar, Trevor Winter, Gloria Belliveau, Joyce Harland, JoAnn Lambaert, Nelda Didychuk, Joan James, Paul Barnabe, Keith Vinthers, Brad Collett.
REGRETS: John George, Scott Jordan, Kevin Alguire.
The President called the meeting to order at 9:30.
NORTH STREET ROADS – After considerable discussion, Trevor Winters moved that the CLCA recommend to Parks Canada that for the safety of pedestrians, and emergency vehicle access, that all streets in the North End be opened to the shore road and that all impediments on the shore road be removed. Seconded by Joan James. After discussion, Trevor withdrew his motion. Moved by Paul Barnabe and seconded by Nelda Didychuk that for overall safety and infrastructure reasons, the CLCA Board requests that the Park review and provide the CLCA Board with various North Street loop options with costs, with or without paving, by the 2014 Annual General Meeting. Carried with 1 opposed.
SERVICE BOXES – The CLCA Board takes no responsibility for the water and sewer service boxes.
CLCA COMPUTER – A discussion took place on the merits of purchasing an Apple or P.C. There is only about $200 difference in the price. A discussion also took place on the value of a lazer printer. Although a lazer printer is about 3 times the cost of a regular printer, there is a substantial saving in ink. Moved by Joan James and seconded by Paul Barnabe that we have Joyce purchase the computer of her choice. Joan and Paul agreed to amend their motion to read – That we have Joyce purchase the computer of her choice and a double sided lazer printer. Carried.
PARK UPDATE – Dale Wallis joined the meeting for a brief period. Brian McVicar asked Dale about the Stop signs that have been placed on Centre Street. Dale replied that they are to help slow traffic down. There are also stop signs on one of the roads in the south side. Four more signs have been ordered and will be placed when they arrive. It is felt that when the roads are paved, speed will increase and we may have to look at the need for speed bumps.
BUILDING GUIDELINES – Joan James was asked to form a committee to review and clarify the building guidelines.
MICHAEL RAC REPORT – Michael explained that he is responsible for working on the "comprehensive review". He is working on a long term review of the cabin area (a secondary Plan) based on best practices and procedures, as an assist to the Park and Board. The Board will shortly receive a copy of his report.
Michael will make a 10 – 15 minute presentation to the AGM, explaining his responsibilities and will then be prepared to spend some time answering questions.
Brad Collett asked Michael which issues he thinks are the most controversial? Michael answered with
– Issues on the boat cover, parking and traffic, however this issue is too complex and has been removed from his report.
– Parking, trying to find a middle ground, improve lake shore, perhaps an extra dock
– Trevor reminded all that the cookshacks impede the straightening of the back lanes. Michael answered that the cookshacks provide an intricate social atmosphere, one of the last places left to interact with neighbours.
–
– Brian thanked Michael for attending our meeting.
Trevor said that he feels the CLCA needs to put forth a strong Board. He feels the Park wants to take a step back and for the Board to take a more leadership role. He encouraged the incoming Board to be prepared to be a very strong Board but also said that the Park needs to stop dragging their feet, as they have the final say. Multiple comment cards need to go to the administration office. A discussion occurred on the value of the Development Review Board that was disbanded, and it was decided that we need to ask for the assistance of the WTA in looking at perhaps resurrecting this board.
CLCA PROCEDURES BOOKLET – This booklet has been prepared by Roy White, and now needs to be changed from Word to a publishing format, which would be quite expensive. Moved by Brad Collett and seconded by Nelda Didychuk that we do not print the booklet, but put it in the website. Carried.
SECURITY – An incident occurred in the south end regarding a group a young people who were noisy and out of control, threatening residents and causing great concern. The police were called, but said they could not help. These people were renters, and the Board feels that if you are renting out your cabin, please be very careful who your renters are. It is important to note that the only way we can increase the amount of security we have in our area is to be sure to report every incident that happens to the proper authorities. The numbers are posted on the washrooms a well as printed in the newsletter and on the website..
FINANCE –
TREASURER'S REPORT AS OF AUGUST 14TH, 2014
REVENUE: As of June 20, 2014 $ 7,139.40
Membership deposits 4,845.00
Jamboree Hall donations deposit 320.00
Sold 8 keys 40.00
TOTAL REVENUE AS OF AUGUST 14, 2014 $12,344.40
EXPENSES: Printing for General Meeting $ 63.45
June 22/14 Board Breakfast Meeting 152.12
April 26/14 Trevor Winter & Gloria Belliveau –
Mileage to Board Meeting in Portage la Prairie 199.35
Return deposit to Cindy Rose for Jamboree Hall 80.00
June 20, 24, 27, August 7, 14/14 Joyce Harland
Mileage to bank, post office, & for printing 37.80
Receipt books and pencil sharpeners 8,75
TOTAL EXPENSES TO AUGUST 14, 2014 $ 541.47
TOTAL ASSETS TO AUGUST 14. 2014 $11,802.93
Westoba Balance as of July 3, 2014 $10,118.28
Add outstanding deposits $1,720.00
Subtract outstanding cheques 48.35
Add Westoba Equity and Share 13.00
BANK RECONSILIATION AS OF JULY 31, 2014 $11,802.93
Respectfully submitted by Joyce Harland, Treasurer, CLCA
Joyce reported that we have 365 paid up membership. She thanked Joan James and Gloria Belliveau for their help in collecting memberships.
Moved by Paul Barnabe and seconded by Brad Collett that we ask the Park for the construction of a handrail to the 2nd street swimming dock. Motion withdrawn. Moved by Nelda Didychuk and seconded by Joyce Harland that we approach the Park to have them put in an accessible pathway and handrail to the 2nd street swimming area. Carried.
NOMINATIONS – Trevor has the ballots and voting cards ready. Trevor remarked that it is an unusual year, with both the President and Vice-President resigning.
As previous past president, Jeff Sim will conduct the elections.
President – Trevor Winter
Vice-President – Brad Collett
Secretary – Gloria Belliveau
Treasurer – Joyce Harland – special motion needed
Board Members – 2nd yr. of 2 year term –
Nelda Didychuk, JoAnn Lambaert, Kevin Alguire
5 Board Member positions open – candidates are
Joan James, John George, Keith Vinthers,
Paul Barnabe, Greg Fleck and Mary Orr
Registration will be at 9 a.m. Six volunteers are needed. Brad Collett. Trevor Winter, Joan James and JoAnn Lambaert volunteered.
Following discussion, the Board decided that anyone can attend the meeting, but only members can speak and vote. Anyone wishing to speak will be asked to clearly state their name and cabin address and show their voting card. The President will include this in his opening remarks.
Moved by Brad Collett and seconded by Paul Barnabe that the meeting be adjourned at 12:50 p.m.