The Clear Lake Cabin Area is situated on the west side of Wasagaming adjacent to the boat cove. Within its boundaries are 525 cabins located on individual lots. The Clear Lake Cabin Area is unique. Its origin dates back to the creation of the Park, and the original 1931 development plan. The five acre plot, which the present day cabin area now occupies, was the transient campground until 1960 when the new Wasagaming campground was built. This "old" campground became the seasonal campground and, in 1978 the Park allowed permit holders to leave their camping units/cabins on their lot year round. The cabin area was born. Soon most conventional camping units, tents and trailers, all but disappeared. The cabins became larger and more luxurious. The evolution included most amenities. Communal facilities, such as kitchen shelters, woodsheds, refuse bins and bathroom facilities are located throughout the cabin area. However, there is now interest in determining the feasibility of water and sewer installation to individual cabins.
The 1930's depression was responsible for rapid development in the Park. The workers were housed in work camps. For many being away from their families was emotionally very difficult. The Clear Lake campground gave some the opportunity to reunite with their families in the summer. Amongst these early Park employees who resided in the Clear Lake campground for the summer, was Vic Creed, the man who supervised the construction of the Clear Lake Golf Course and the first greens keeper. Vic, his wife, Ann, and son, Lloyd were campers for several seasons.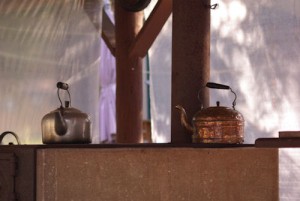 The term "Cabin Area" did not come into use until the 80's. However, it could be argued that cabins existed in the 30's. Up and into the 50's the preferred accommodation of the seasonal camper was the "wall tent". This structure constructed of canvas, rectangular in shape with a gable roof, very much resembled a cabin, particularly when a wooden floor and walls were added. The 50's saw the appearance of the wood cabin. Construction was typically 2″ x 2″ framing, sheeted with plywood. The Carter and Minty families, who owned property just outside the Park, moved the cabins in and out and stored them for the winter until 1978, when it was no longer necessary to remove the cabins. The cabin boom began. Every year saw more and more cabins constructed. Building regulations were developed to control development. Maximum size was initially 24′ x 16′, single storey, but later amended to the existing size of 16′ x 32′ with a sleeping loft. Life in the campground has become very comfortable, complete with electricity, telephone and high speed internet service.
The PDF (link below) was abstracted from: RIDING MOUNTAIN NATIONAL PARK OF CANADA – BUILT HERITAGE RESOURCE DESCRIPTION AND ANALYSIS – Taylor, Edward Mills and Pat Buchik with the assistance of Katharine Kinnear Parks Canada Western Canada Service Centre, Calgary April 2001.
Click to open PDF Link Old Campground History