WHO REMEMBERS THIS?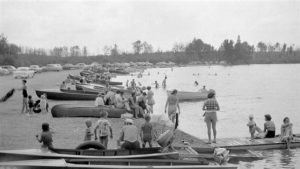 The following list of businesses have purchased their 2016 business licence to date, and are authorized to carry out work in Riding Mountain National Park. Parks Canada does not take on any liability related to services that these businesses provide.
Cabin Moving
Minty's Moving, Onanole 848-2552
Carpenters / Renovations
Able Eavestroughing Ltd., Brandon 726-3333
All In Builders, Minnedosa 725-9668
Anything Tiled & Laminate Flooring 573-1218
Bergweg Log & Timber Homes, Erickson 636-2585
Brad Hall Construction, Onanole 848-0099
Brian Valcourt Construction Inc., 761-8475
Brandon C&R Sheetmetal Ltd., Brandon 724-6601
Cancade Custom Contracting, Brandon 729-0680
Clear Lake Construction, Onanole 848-2923/848-0644
Collyer Construction Ltd., Onanole 848-2085
Contractor's Corner, Brandon 727-3799
Coyote Ridge Contracting Ltd., Riding Mountain 967-2500
Fleming Construction, Onanole 848-4582
Garry Roloff Construction, Dauphin 638-9830
Griffiths Contracting Ltd., Onanole 848-0877
Holmes Construction, Onanole 848-0274
J & G Homes Ltd., Brandon 728-2235
Kitchen Gallery on 9th, Brandon 571-6888
Kuhl Concrete & Construction, Kelwood 967-2350/212-0492
Lorne's Contracting, Dauphin 638-6584
Merrick Construction Ltd., Sandy Lake 636-2275
Mountain Construction Inc., Winnipeg 899-0962
Mountain Glass & Carpentry Services, Onanole 848-0646
Northern Edge Logworks, Dauphin 648-6253
Total Property Care, Onanole 848-2305/573-4167
Trademark Construction, Onanole 573-5479
Trig Martens Construction, Brandon 573-2126
Wayne Horn Construction, Onanole 848-0090
Westman Premier Homes, Brandon 573-9775
Construction
Ken Beatty Construction Ltd., Onanole 848-2477
Kuhl Concrete & Construction, Kelwood 967-2350 / 212-0492
Prairie Redi-Mix, Foxwarren 847-2265
True Grit Sand & Gravel, Onanole 848-2319 / 848-0171

Electrical
Bri-Mac Electric, Erickson 848-0480
C. Burton Enterprises, Minnedosa 867-3950
Figol Electric, Brandon 727-6556
Grand Valley Mechanical Ltd., Brandon 727-2333
Kingdon Electric, Minnedosa 867-7153
Misanchuk Electric, Sandy Lake 648-3350
Murray Friesen Electric, Grandview 638-2525
Ryback's Electric, Lake Audy 848-2291
Pinette Electrical, Minnedosa 868-5741
Turned On Electric, Dauphin 232-5031/629-2127
Wheat City Electric, Brandon 727-6699
Fireplaces, Inspections & Masonry
Prairie Mountain Masonry, Onanole 232-9797
Stiles Masonry, Brandon 729-8802
Zetterstrom Industrial Service, Brandon 729-5144
Firewood Delivery
Terrace Miko Firewood Supply, Onanole 868-7183
Insulation
McReal Spray-On Systems, Minnedosa 867-7264
Landscaping
Alternative Landscaping Ltd., Brandon 727-7289
Dobson Yard Care, Onanole 848-0388
Dan's Yard Care, Onanole 867-7911
Ken Beatty Construction Ltd., Onanole 848-2477
Livingstone Landscaping, Brandon 578-5291
Nordic Landscaping, Onanole 848-8479
Miscellaneous
B & D Well Doctors Ltd.,Brandon 727-2230/ 724-2921
Outfitters/Horse Tours
9 Finger Ranch, Rossburn 859-2497
Earth Rhythms Inc., Onanole 867-7152
Elkhorn Riding Adventures, Onanole 848-4583
Painting Services
Roy Painting & Decorating, Carroll 483-3979
Plumbing & Heating (Gas Fitting)
354 Plumbing & Heating, Lake Audy 848-2101 / 848-0324
Badger Creek Plumbing & Heating, Brandon 717-4880
Braschuk Plumbing and Heating, Dauphin 647-4776
Capital Mechanical Heating & Cooling (2013) Ltd., Brandon 727-2011
Gord's Plumbing & Heating Ltd., Onanole 636-2380/ 729-5854/ 724-5815
Grand Valley Mechanical Ltd., Brandon 727-2333
Hillside Plumbing & Heating, Minnedosa 868-5358
J.Cann-Do Plumbing & Heating, Onanole 210-0404
Lockhart Plumbing & Heating Ltd., Brandon 728-1933
McKenzie Heating & Cooling, Dauphin 648-4572
Prairie Mountain HVAC/R, Minnedosa 867-7346
Realtors
Century 21 Westman.com, Brandon 725-0555 729-3550
HomeLife Home Professional Realty Inc., 726-5340
Brandon Royal Lepage/Martin Liberty Realty, Brandon 725-8800
Remax, Brandon 729-3550
Refrigeration
C. Burton Enterprises, Minnedosa 867-3950
Grand Valley Mechanical Ltd., Brandon 727-2333
Roofing & Eavestrough
ABLE Eavestroughing Ltd., Brandon 726-3333
Brandon Eavestroughing & Exteriors 2008, Brandon 726-5888
McReal Eavestroughing/Spray Foam, Minnedosa 867-3738/ 867-7070
Riding Mtn Roofing & Eavestrough, Onanole 848-7663
Stagecoach Tours
Glass Slipper Carriage Service, Inglis 564-2279 / 773-6226
Surveyors – Canada Land
Altus Geomatics (Manitoba) Professional
Land Surveyors, Brandon 727-0651 / 1-800-366-9755
Balchen & Kulchycki Surveyors, Dauphin 638-6336
Tree/Stump Removal (by Permit ONLY)
G's Tree Service, Onanole 848-0424
Nordic Landscaping, Onanole 848-8479
Yard Care/Clean Up, Mowing, etc.
Dan's Yard Care, Onanole 867-7911
Dobson Yard Care, Onanole 848-0388
Vehicle Tours / Charter Services / Shuttles
Shuttle Bug, Onanole 848-0603
Southgate Motor Hotel, Onanole 574-6824



ANNUAL GENERAL MEETING
CLEAR LAKE CABIN ASSSOCIATION
PARK THEATRE – SEPTEMBER 5TH, 2015
BOARD MEMBERS PRESENT: Trevor Winters, Brian McVicar, Brad Collett, Gloria Belliveau, Joyce Harland, Joan James, Nelda Didychuk, Paul Barnabe, Keith Vinthers, JoAnn Lambaert, John George, Andy Urbanowicz.
PARK REPRESENTATIVES PRESENT: Dale Wallis, Dwight McMillan, Robert Raeside
The meeting was called to order by the President at 10:05 a.m.
The President introduced the Board Members and Park Representatives.
APPROVAL OF MINUTES OF 2014 ANNUAL GENERAL MEETING:
ITEMS ARISING: Pam Lucenkiw, 24 – 3rd St. N. – asked if the Board referred to the Rac Report when making decisions. Dale Wallis replied that the Rac Report was considered by the Board on all decisions. Dale gave, for examples, the sewer and water issue, the leases and tweaking the Building Guidelines. He said the Board then decided to take a break, and the new board will look at other issues. Motion to accept the minutes as distributed by John George and seconded by Keith Vinthers. CARRIED.
MATTERS ARISING FROM THE MINUTES:
NORTH STREET LOOPS: Dale Wallis reported that he has taken this under advisement. He said that there are now signs at all 5 streets stating that there is no exit.
NORTH SHORE ROAD: Dale Wallis said that the North Shore Road falls outside the survey for our area and is under the jurisdiction of the Park.
Leanne Wrobel, 15 – 2nd St. N. – requested information about the road. Dale replied that there are delays caused by erosion and the Park is looking for solutions. At the present, it is under advisement.
Alice Birnie, 36 – 2nd St. N. thanked the Park for their quick response when the road was washed out. Dale Wallis has asked for opinions of residents of the North End for information.
Pam Lucenkiw, 24 – 3rd St. N – would like to see the Rac Report used in decision making, and Trevor Winters said it has been used by the Board in many decisions.
Trevor Winters said the Board have developed a process for owners to contact the Board. To clarify situations, owners need to write out their issue, including a signature, and email it to any board member to have the issue raised. Any issue without a signature will not be reviewed by the Board.
Brad Collett, 77 – 4th St. S., suggested that before doing this, owners should try to resolve issues themselves.
Dale Wallis said that neither the Board or the Park are arbitrators.
Dale Wallis said there will be no new lots released this fall.
TREASURER'S REPORT
REVENUE: as of July 5, 2015 $8,485.71
Membership Deposit 340.01
Sold 21 keys 105.00
Jamboree Hall donation and deposit 160.00
TOTAL REVENUE $9,090.71
Expenses:
Print voting ballots for AGM – September 6, 2015 $ 22.83
2 year extended Apple Care Protection Plan for computer 315.27
Theatre rental for AGM – September 6th, 2015 100.00
TOTAL EXPENSES: $438.10
TOTAL ASSETS TO SEPTEMBER 6, 2015 $8,652.61
Westoba balance as of July 31. 2015 $8,752.71
Subtract outstanding cheques 438.10
Add outstanding deposits 325.00
Add Westoba Equity 8.00
Add Westoba Share 5.00
BANK RECONCILIATION AS OF SEPTEMBER 6, 2015 $8,652.61
PAID UP MEMBERS TO DATE – 416 FOR 2014 & 2015 WHICH IS 79% PAID MEMBERS AND 16 MEMBERS HAVE PAID FOR 2016 & 2017, AS WELL AS ONE MEMBER HAS PAID FOR 2018 & 2019.
Respectfully submitted by Joyce Harland, Treasurer, CLCA
Moved acceptance by Joyce Harland and seconded by John George. CARRIED
PRESIDENT'S REPORT: All items have been addressed.
PARK'S CANADA REPORT:
Dale Wallis thanked Dwight McMillan for his help over the past few years, and explained that Dwight has accepted a new position with the park where he will be responsible for Park infrastructure. Doreen from their office will handle permits, etc. at the present time.
Dale Wallis has prepared a Building Guidelines Booklet which is now available at the office.
Dale suggested that owners need a landscape plan, but should not change drainage.
Dale explained that he had challenged the GST inclusion on the sewer and water infrastructure, but has received no decision on this issue. He expects the invoices will be out shortly, and will be due in 30 days from the date of the invoice. Trevor thanked Dale and Dwight for their work in supervising this project.
The Park is doing a number of infrastructure improvements and are hoping to complete more projects in the future.
Trevor asked if the Park has an Arborist or people trained in this area. Dale replied that this is the Park's responsibility.
Dale said that the Park is looking for ideas for the celebration in 2017.
Leanne Wrobel, 15 – 2nd St. N – asked what owners should do when they have old or dangerous trees. Dale replied that he should be contacted and the Park will address the issue.
Bonnie Barkman, 36 – 3rd St. N – asked if there is any restriction on Park Models. Trevor said that the board had a concern because the Park Models need a separate pole for Hydro. Also there is an issue of congestion as Park Models need their own pole and large propane tanks.
Boyd, 62 – 5th St. S – said that owners could put in electrical furnaces, etc.
Dwight says the Park Models are a good product, meet CSA approval, the pole for Hydro is on their own property with a maximum panel of 100 amps., propane tanks are restricted in size and cannot encroach on setbacks.
Jean Birnie, 36 – 3rd St. N – asked if allowing Park Models should be a decision of the membership and not the Board.
Dwight said if there is damage to the road, the owners and movers are responsible for the repairs.
Louie Rac, 117 – 3rd St. S – Feels Park Models are a great diversity to the area, and the electrical connections are very safe.
Dwight asked for any building questions.
Louis Rac, 117 – 3rd St. S – noted that contractors are extremely willing to work with Dwight. He appreciates Dwight's dedication to the Park and our area, and thanked the Board and membership for the Association.
Trevor extended his best wishes for Dwight in his new position.
Trevor introduced Robert Raeside, Development Manager, to speak about the boat cove development.
– the boat parking lot is to be cleared out by September 20th, 2015 in order that it can be updated, such as delineated parking stalls, etc.
– the boat inspection is to be moved to that parking lot next summer.
– that parking lot will be only for boats, not recreation vehicles, etc.
– boats not parked in proper spaces will be towed.
– boat launch pads will be replaced.
– all boat docks are to be replaced.
– parking lots have been increased in size as much as is possible.
– the trail on the North Shore will be rerouted to protect architectural artifacts and safety of pedestrians.
– water quality inspections will continue. At present there are no problems.
Joanne Little, 31 – 5th St. N – expressed a concern about the lack of parking for vehicles close to the canoe and kayak area, She also is concerned about access for persons with disabilities.
Katherine Bellemare, 85 – 3rd St. S.- asked if , now that the launch at the second street dock is in place, will that area be improved. Dale replied that the shoreline is under review, some improvements have been made, and they will be looking at more improvement that area.
Yolande Ranson, 24 – 2nd St. N.- thanked the Park for the canoe ramps.
Louis Rac, 117 – 3rd St. S,- asked if there was a plan in place to clean up the canoe area. The Park is looking at this issue.
Jean Birnie, 36 – 2nd St. N. –expressed a concern about boats that have not been given a sticker. There was an issue earlier in the summer when stickers were not available.
JoAnn Lombaert, 9 – 5th St. S,- asked if we could have more swimming docks. Dale replied that he has been promoting extending the walkway through the area which may improve docks, etc. Robert said that the boat launch docks are to be increased.
Nelda Didychuk, 35 – 2nd St. N – suggested that a way to clean up the canoe area would be a notice put in the spring newsletter that in the fall all canoes and kayaks have to be removed. Any left overs could be donated to camps or disposed of. This could be done every two to three years.
Dale indicated to Robert that people want the path extended.
Bonnie Barkman, 36 – 3rd St. N.- asked about pontoon boat parking. Dale replied that every owner is responsible for parking their own boat.
David Breen, 13 – 2nd St. N – asked if the swimming docks at 2nd and 5th are just for swimming or are boats allowed to pick people up there. Robert said that boats must use caution, but they are allowed to pick people up at the docks.
John George, 4 – 4th St. S – asked that those with canoes and kayaks make sure they are visible, by wearing bright clothing, etc. Blue kayaks are almost invisible when on the water.
ELECTION OF OFFICERS:
President – Nominated Brad Colett – Called for nominations three times – nominations ceased.
BRAD COLLETT ACCAIMED AS PRESIDENT.
Vice-President – nominated Patrick Gordon – Called for nominations 3 times – nominations ceased.
PATRICK GORDON ACCLAIMED AS VICE-PRESIDENT.
Treasurer – nominated Joyce Harland – Called for Nominations 3 times, -nominations ceased.
Motion by Brad Collett, seconded by Keith Vinthers that the position of treasurer be extended, CARRIED.
JOYCE HARLAND ACCLAIMED AS TREASURER.
Secretary – nominated Gloria Belliveau – Called for nominations 3 times – nominations ceased.
Motion by John George, seconded by Andy Urbanowicz that the position of secretary be extended. CARRIED.
GLORIA BELLIVEAU ACCLAIMED AS SECRETARY.
There are 3 vacant board positions, Kevin Alguire retired, Nelda Didychuk and JoAnn Lombaert's positions ended. Nelda Didychuk, JoAnn Lombaert and Lionel Crowther were nominated. Called for nominations 3 times – nominations ceased.
NELDA DIDYCHUK, JOANN LOMBAERT AND LIONEL CROWTHER ACCLAIMED AS BOARD MEMBERS.
Trevor Winters welcomed the new and returning Board Members.
The Next Meeting will be at the Jamboree Hall on July 3rd, 2016.
Meeting adjourned at 11:47 a.m.
THE ABOVE MINUTES ARE POSTED FOR YOUR INFORMATION ONLY AND STILL NEED TO BE APPROVED AT THE AGM IN 2016.
R
Below please find the latest Building Guidelines for the Clear Lake Campground Area. Please click on the link to open them.
The AGM will be held on September 6, 2015 at the Clear Lake Theatre
Registration is at 9:00 a.m.
Meeting at 10:00 a.m.
Starting the week of August 17, 2015 to approximately October 23, 2015,
Parks Canada is undertaking road and drainage improvements on Highway 10
which traverses Riding Mountain National Park from the south to north
gates. Work involves a complete reconstruction of the road base and new
pavement from KM 12.5 near Spruces Picnic area north to KM 18.
To help you plan your travel through the park, please expect the following:
Single lane alternating traffic, speed reductions to 50 km/hr, traffic
control personnel, 20 minute delays. Be prepared to stop.
Construction working hours from 07:00 to 19:00 hrs 7 days per week.
No work on designated long weekends or on September 12 & 13.
To plan ahead before you travel, please visit www.manitoba511.ca
The safety of workers and motorists is Parks Canada's top priority. Please
respect traffic control personnel and reduced speed zones to help keep
everyone safe.
For more information, please contact:
Chantal Skraba
Public Relations & Communications Officer
Riding Mountain National Park
204-848-7247
or visit http://www.pc.gc.ca/pn-np/mb/riding/visit/infra-prog.aspx
Rae Kingdon
Public Relations & Communications Officer | Agente, Relations publiques et
communications
Riding Mountain National Park of Canada | Parc national du Canada du
Mont-Riding
Parks Canada l Parcs Canada
P.O. Box 299/C.P. 299
Onanole, MB R0J 1N0
rae.kingdon@pc.gc.ca
Telephone I Téléphone 204-848-7248
Facsimilie I Télécopieur 204-848-2596
www.parkscanada.g.c.ca I www.parcscanada.gc.ca
Government of Canada I Gouvernement du Canada
Conserve, Restore and Connect with Nature l Conserver, restaurer et se
rapprocher de la nature
pic28476.jpg
July 30, 2015
PROVINCE REMINDS MANITOBANS TO TAKE STEPS
TO REDUCE CONFLICTS WITH BLACK BEARS
Manitoba Conservation and Water Stewardship reminds Manitobans that black bears are currently increasing their food intake to prepare for hibernation later this fall. As autumn approaches, black bears may travel through populated areas in search of ripening fruit and acorns. Residents and visitors to bear country can reduce the risk of an encounter by removing all food attractants.
People are encouraged to:
• remove all ripened or fallen fruit in the morning and before dusk;
• remove all birdfeeders until November when bears have entered their dens;
• store garbage in a sealed, bear-resistant container or secure building until just prior to pickup;
• feed pets and store their food indoors;
• clean barbeques thoroughly after every use, including the grease trap; and
• compost food items indoors.
Bears are wild animals and must be respected. When in bear country:
• always assume bears are in the vicinity, even if no recent sightings or problems have been reported;
• never approach or feed a bear;
• carry bear spray and know how to use it;
• keep dogs on a leash and do not let them run toward a bear; and
• be aware of your surroundings, make noise, travel in groups and do not use earphones to listen to music when outdoors.
For more information about how to reduce conflicts with black bears and what to do during a bear encounter, visit www.manitoba.ca/blackbear.