Five parks staff installed this new, and frankly quite awesome, accessible kayak dock in the canoe graveyard within the campground a few weeks ago.
It has been enjoyed by several kayakers and allows people who have some mobility
challenges to easily launch and land a kayak using the rollers and
hand rails. Installing this piece of accessible infrastructure was
Michael Rac's suggestion.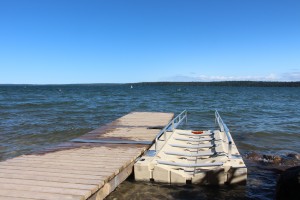 The contractor for the paving in our campground is Maple Leaf Construction from Winnipeg. They have been doing other pavement in the area and have just recently paved Meadowview Drive and other areas of Southbay Subdivision west of Sportsman's Park.
>
>They started working in our campground on September 2nd on 2nd Street South. They have completed the first block of 2nd Street South, along with the
> majority of the first block of 1st Street South. They have excavated the
> second block of 1st Street South, and have staked the southerly two blocks
> of both 2nd Street South and 3rd Street South.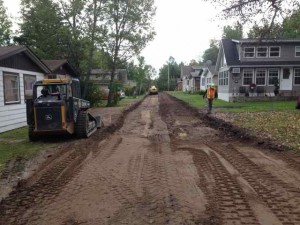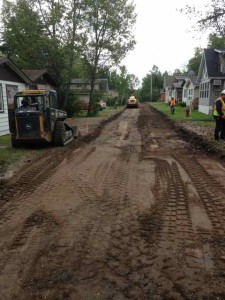 >
>In terms of equipment they are using a tracked excavator, a tracked skid
> steer, two packers and a number of tandem trucks to remove the existing
> material and replace it with road base material.
>
Annual Fees
The CLCA Board has asked us to explain the fee increase. I hope the
following answers questions you may have. If not please feel free to
contact our office.
How are fees determined – Lease holders individual billings for water,
wastewater and general municipal (community debt) are determined based on a
cost sharing formula developed by Stantec Consulting. This formula, for
residential application, includes factors for length of occupancy and type
of service. With the change of occupancy from 24 weeks to 7 months your
occupancy period amended from .42 of a year to .58. With direct service
connections now available your type of service changed from .7 to 1.0.
These amended factors are used in the calculation of cost sharing for the
utilities and debt. Water costs rose $50, Wastewater $20 and debt service
$60 (amounts rounded). Garbage did not change as it is a fee and not a
formula.
Why are fees assessed when not everyone has connected – The formula is not
based on consumption or actual occupancy but on availability. As some cabin
and cottage owners do not come every year, come for short periods or stay
for 5 – 6 months it is not practical to assess fees based on period of
time. The majority of our costs are fixed (electricity, labour,
maintenance, debt, etc.) and less than 2% are variable (chemicals).
Installing, reading and maintaining meters to determine share of the 2% of
variable costs would cost more than the 2% effectively raising everyone's
proportional share of expenses.
Could fee increase be delayed until project is completed – In our public
meetings and the information packages we distributed we advised the
community of these fee increases. To be fair to other users of the system
we needed to assess the increase in the year service was available.
Future cost forecast – The water, wastewater and debt are full cost
recovery assessments. Community debt limit reached maximum allowance based
on current formula in 2010 and won't be retired until 2030. The good news
is we cannot borrow more. The bad news is this limits community projects.
Water and wastewater expenses are assessed based on previous years
expenses. These costs can vary depending on system maintenance and cost
increases but historically they have been stable. The RM of Park is a user
of our water and wastewater system and assessed an annual fee as well. When
they completes their water system their share of fees will increase thereby
reducing costs to our community. Garbage is currently charged as a fee but
may become cost recovery in future years. Currently the Park subsidises
about 60% of the cost of garbage. If we were full cost recovery today the
cabin assessment for garbage would be approximately $80, an increase from
the current $27.50 fee. In many presentations the past couple years I
proposed the future total fee at $500 per year based on full cost recovery
for all services, including garbage. reductions from this future projected
amount will be based on share of services to the local municipality.
Dale Wallis
Townsite and Asset Manager | Gerant du lotissement urbain et des biens
Parks Canada | Parcs Canada
Riding Mountain National Park of Canada | Parc national du Canada du
Mont-Riding
Wasagaming, MB R0J 1N0
Telephone | Téléphone 204-848-7219
Cellular | Cellulaire 204-761-8904
Facsimile | Télécopieur 204-848-2596
Email | Courriel dale.wallis@pc.gc.ca
www.parkscanada.gc.ca/riding | www.parcscanada.gc.ca/riding
Government of Canada | Gouvernement du Canada
Maple Leaf will be starting work on the gravel preparation next
week or the following week. Once this is complete, the paving will begin shortly afterward.
Roads will be open or closed as they work throughout the campground.
We will get a schedule from Maple Leaf detailing the streets that will be worked on and the days they will be closed.
The good news is Maple Leaf will be starting on townsite paving this week and they will also pave the damaged areas on Boat Cove Rd.
The MS Society, Parland Chapter Bike Tour is planned at Riding Mountain National Park on September 6, 2014. Volunteers are especially needed for set up at Clear Lake at Bike Village on Saturday, September 6th from about 8am-10:30am, and then also individuals or groups of volunteers for a cheer squad on site at Clear Lake rom about 11am-3pm. If you would like to volunteer or participate and/or have any questions you can contact Rebecca Pritchett via either email at Rebecca.Pritchett@mssociety.ca or phone (204) 622-2940. You can also take a look at their webpage at http://ridingmountainchallenge.com/ as it has plenty of information about bike tour and also information for people who would like to participate in the tour.
These sheds are not governed by the park as for construction/material.
These are inspected by Manitoba Hydro through their permit process. They
MUST remain on the lessee's property and not encroach on park property. On
99% of the lots they must go in the rear, as there is 2 feet of property
(given after the recent survey). This is primarily for the 16ft X 32ft
cabins.
Now here is the confusion IF you are to build a shed on the rear of the
cabin, that houses ONLY the water tank, it is not required to have any 5/8
drywall " as we don't have drywall surrounding our hot water tanks in our
homes.
If you are to put a shed all the way across the back of your cabin say (2ft
X 16ft) which houses your Hot water tank and OTHER things, the rear of the
shed must be drywalled with 5/8 type X drywall as per fire code.
I hope this helps. Parks Canada will not be enforcing the Hydro Codes and
don't have the staff to police the installation of Hot water tanks. If
any one has a concern about an illegally installed hot water tank please
report these suspected violations to Hydro Inspector Wilf 1-204-867-
7708.
Dwight McMillan CCBCO
Development Officer/Building Official
Riding Mountain National Park Of Canada
Phone # 204 – 848 – 7214
Fax # 204 – 848 – 2596